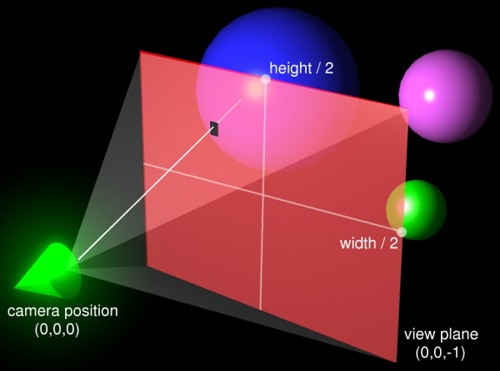 The first step in raytracing is to send rays from the camera (or eye) into the scene. This can get complicated, but we will start out simple. First we need a camera. We will assume the camera position is fixed at the origin. From this camera we want to send rays through a view plane. This view plane becomes the output image. We will use the plane at Z = -1 as our view plane. Remember, in raytracing the negative Z axis goes 'into' the scene. In the scene above, the view plane is represented by the red square and the camera is the glowing green cone (Maya made it glow - woohoo!).
Essentially, we want to map the view plane onto our output image. We start by specifying the width and height of our output image in pixels. We also specify the X field of view. The X field of view determines how 'wide' our output image is. We also need a Y field of view. These two field of view parameters have a big effect on how the output image looks. For computer monitors, an X field of view of 45 degrees is usually good. From the X field of view we can generate the Y field of view based on the aspect ratio. You can try using a different Y field of view, but this usually results in distortion. You'll know when you have distortion because your spheres stop being round. So far, our math looks like this:

We almost have all the data we need to create an eye ray. We want to send a ray through the middle of each pixel, so we need the (u,v) coordinates of the pixel. The (u,v) coordinates are the pixel coordinates in the output image (ie the bottom-left pixel is (0,0) in (u,v) coordinates). Given (u,v) coordinates, we can calculate the (x,y) coordinates in the plane as follows:
We now have everything we need to construct our ray. The ray goes from the camera at (0,0,0) to the view plane at (x,y,-1). The ray can now be cast into the scene.