These images are all screenshots taken directly from my program. Unfortunately they have undergone several rounds of JPEG compression, so there are visible artifacts (especially around the edges of the red subdivision objects in the radiosity pictures). Click the thumbnails for larger versions.

This butterfly subdivision surface shows two things. First, it shows that my boundary subdivision rules work (there is no 'bottom' to the mesh). Second, it shows that there are bugs in my normal calculations - that's why there are some dark spots near the outer corners.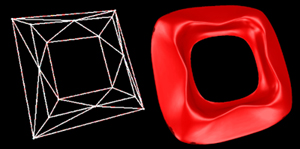 Another interesting subdivision surface, I call this one 'starfish'. The pointy bit in the middle of the 5 spokes is interesting, it has a really high valence (10 or 12 I think). This makes the spokes really pointy at the ends - but they are still smooth (no discontinuity).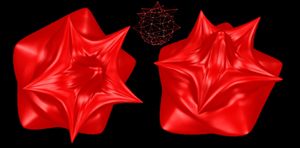 Radiosity on my standard 'box and torus' scene. The image on the left has a hemicube resolution of 20x20 - obviously too low. The effect of the errors is interesting though. I've been told that it looks like venetian blinds. The image on the right is (more) correct, with a hemicube resolution of 200x200. Unfortunately there are not enough light patches, that's why the red boxes have dark bands.
Finally, radiosity on some of my subdivision surfaces. I really like the starfish. There are not nearly enough light patches for the model resolution, so there are lots of blotchy patches. IMHO, it looks better that way than the correct image would. The head is smoother but it really needed another light in front of the mouth.